If you own a WordPress website, then the dire need of photoshop can not be described in words. Whether you want to design logos or edit any images, you are going to need a professional photo editing tool. But using a photo editing tool and then use images in your site is very much troublesome.
You have to learn the usage of the tool from scratch, and sometimes you might end up messing everything. How can you solve it? Well, thankfully, in WordPress, you can solve the image editing problem with the help of WordPress image editor plugins.
These plugins are lightweight and let you edit your images in the exact way you want. The benefit of using these plugins is, you don't need to exit your WordPress site like using an text editor plugin in WordPress.. In this post, I have shown six WordPress image editor plugins.
Use any of these plugins and start editing from your WordPress site.
Let's dig out.
WordPress Image Editor Plugins
In the internet you will find a lot of WordPress image editor plugins, but at here I have listed the best ones. These plugins are chosen after testing and lots of research. Check out them from below.
WP Paint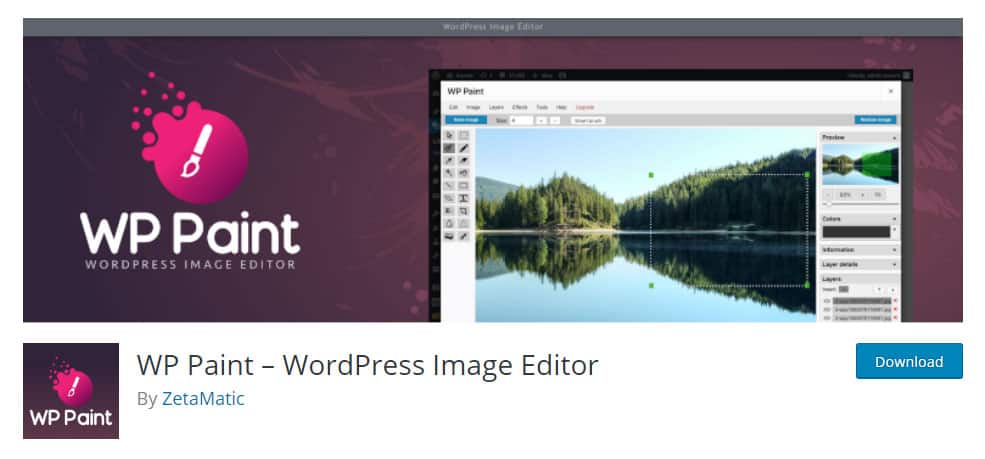 Now you don't need to switch to any desktop-based photo editors as you can directly edit photos with the help of WP Paint plugin. It is one of the best WordPress image editors that is based on an HTML 5 image editor. It comes with an intuitive interface that resembles the common desktop-based photo editors.
There is an extensive array of image editing elements that comes with WP paint. It has the ability to manage layers, crop images, set the layer details, and much more. It's like a small photoshop to your WordPress site.
Just go to the media library and select any image to edit it with WP paint. Make your images sharper, clear the background, or add any shapes and text instantly with this image editor plugin.
Features
Add custom texts, shapes
Photo editor UI that resembles photoshop
Rotate, flip & resize images
Change the hue of images
Adjust the contrast and brightness of the image
DigiWidgets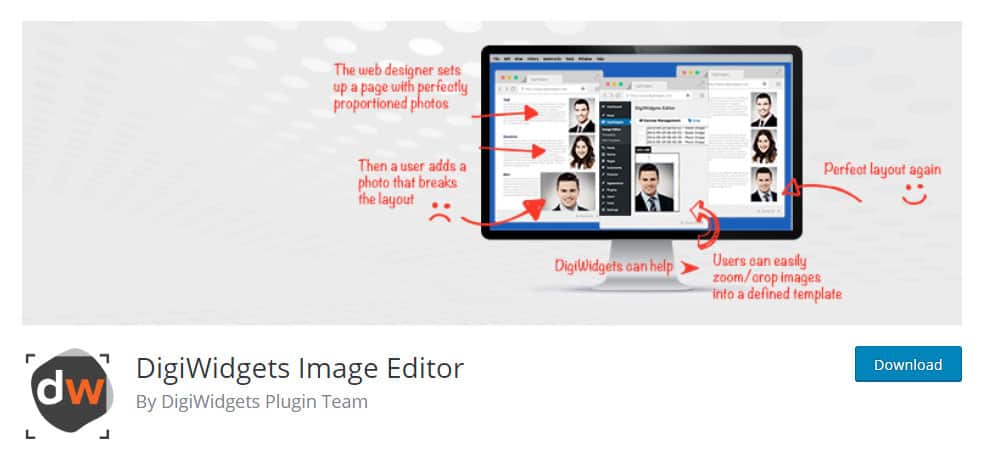 Digiwidgets is one of the WordPress image editors that makes it easy to edit images on their WordPress website. It comes with popular image editing tools such as cropping, filters, texts, flipping, transform, etc. This WordPress image editor tool also has photoshop style features such as multiple layers, history tracking, google fonts, and predefined templates.
You are a designer or developer who creates WordPress websites for clients; then the template feature will help you a lot. You will be able to edit any images instantly without exiting your WordPress site.
From now on, there will be no more squashed, distorted, or wrong size images. With the template feature of Digiwidgets, you will able to save a template for each image area on a website.
Features
Multiple layers.
History tracking
Google fonts
Flip image vertically or horizontally
Add borders
Resize images
Predefined and custom templates
Image Editor by Pixo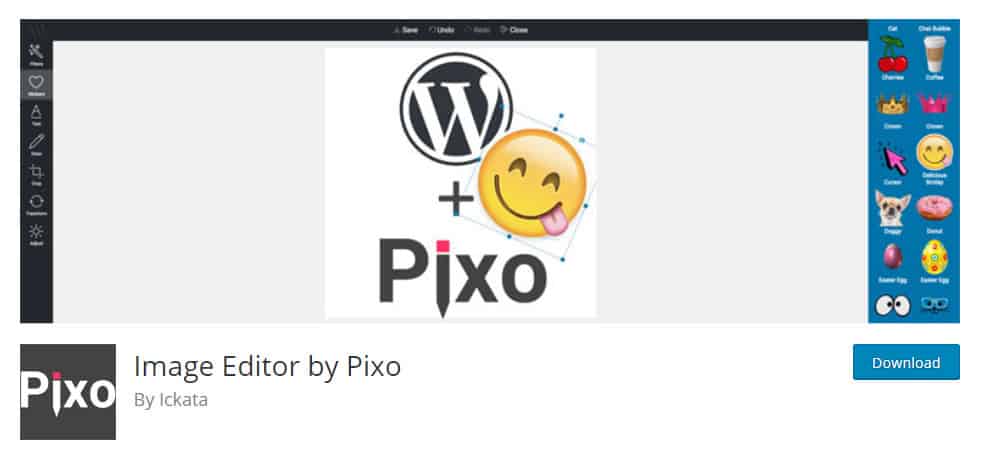 Pixo is a cross-platform image editor that is similar to the popular aviary editor. You can integrate it into any web app. This image editor allows you to do basic editing such as adding text, applying filters, rotate, crop, etc., as well as advanced editing such as adjusting brightness, contrast, RGB, saturation, hue and more.
When you take screenshots, it might not look much attractive, but you can make it attractive with frames of Pixo editor. There are a wide variety of frames that come with the Pixo editor. It will be like a whole new image with these elegant frames.
There is an advance adjustment settings panel that comes with the Pixo WordPress image editor. From this adjustment panel, you will be able to take full control of your image. In case you want to go backward, you can tap the undo button.
Features
A good number of filters to change the image tone
Friendly user interface for easy photo editing
Redo & Undo option
Multiple filters
Different shapes and blur effect
Crop image to preferred size
Advanced adjustments to change brightness, contrast, hue, saturation, etc
Thumbnail Editor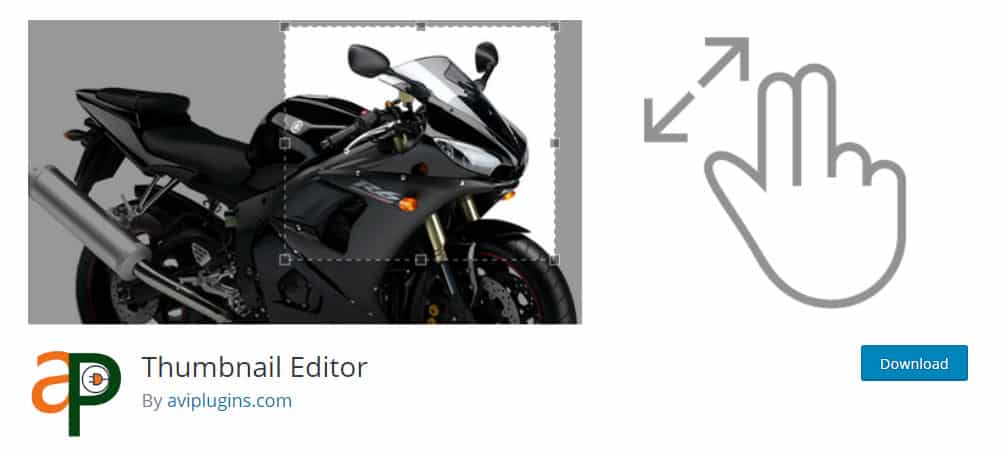 Thumbnails are very important for any website; viewers will watch the thumbnail first then the actual image. When you upload any images to your media library, WordPress generates thumbnail images automatically. There is a very good possibility that your image might get cropped from the wrong section.
With thumbnail WordPress image editor plugin, you can easily generate any sized thumbnail in the way you want. To fasten the process, this plugin automatically generates thumbnails of different sizes. You can copy the shortcode and paste it in your post or manually make your thumbnail with the help of the Thumbnail editor.
With the pro version of this WordPress image editor plugin, you can add custom text or add different image effects like the sketch, grayscale, negative, etc. You can even add image borders with different image borders.
Features
One-click thumbnail generator
Shortcode support
Multiple sizes of thumbnail in one click
Amazon S3 bucket support
Custom texts with different image effects
Undo option
Easy image cropping
imgMCE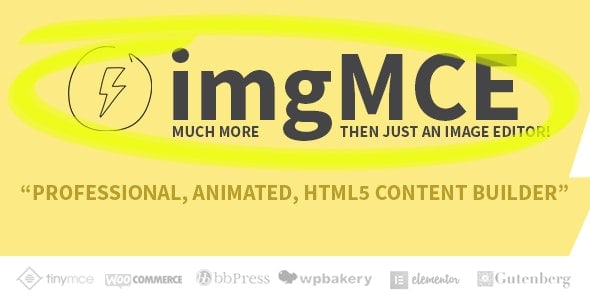 imgMCE WordPress image editor is considered as the best tool that blows life to your website. Improve your photos, animate titles, add filters, and do whatever you want with your images in an easier way.
It is a drag & drop editor that doesn't only let you edit images but also allows you to create something new. It is packed with tons of animations that make your images live. Create animated banners, titles, images in no time with the help of this WordPress photo editor plugin.
You will be able to explain your ideas, analyze any process, add notes, and tell stories easily with imgMCE WordPress image editor. This plugin is entirely device responsive, no matter which device your viewers are using, your images will always look responsive in every device.
The great thing about this plugin is, you do not need to do any coding, and you do not require any coding knowledge either. All you have to do is use your imagination.
Features
No coding skills required
HTML form builder
Drag & drop interface
Easy to use editor
Compatible with different page builder plugins
Multiple filters
Elegant animations
iPhotor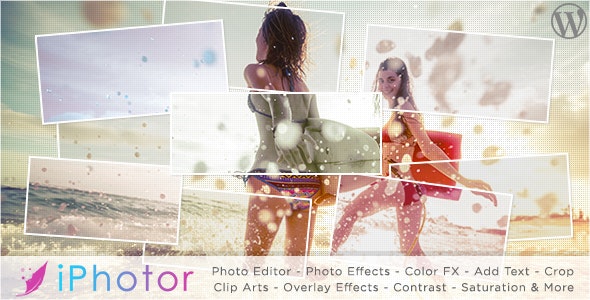 iPhotor is a very powerful WordPress image editor tool for non-professional peoples. It helps you to add many effects to your image without any coding knowledge. This plugin is built with Javascript & HTML5; therefore it is very lightweight and powerful.
With a few clicks, you can entirely change the look of an image. In iPhotor you will found a makeup tab from which you will be able to smooth the skin tone, dyes color, and draw different shapes very easily. These modifications will make your image more attractive and beautiful.
There are also different filters that come with iPhotor WordPress image editor plugin. Each effect gives a unique look to your image; therefore, before choosing one, apply all effects one by one. With the help of this plugin, you can adjust blur, brightness, saturation, contrast, etc.
Features
Multiple filters
Hundreds of overlay effects
One-click saturation, brightness, contrast control
Add text, clip art
Make your image more with makeup effects
Device responsive
Easy customization
Undo option